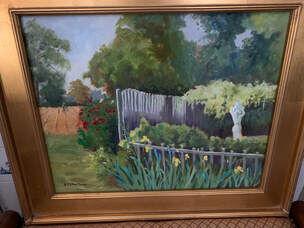 Starkville Area Arts Council is excited to announce our first AiPP Exhibit of 2021: Betty Jane Chatham Retrospective. This hybrid exhibit will be on display for in-person viewing in the lobby of the Partnership in downtown Starkville starting Tuesday, February 1, 2021, during business hours and subject to mask requirements and social distancing guidelines. The online gallery will be viewable on the SAAC website starting Feb. 1 until further notice. No opening reception is currently planned.
This Exhibit features nearly 35 works in oils, watercolors, monoprint, and pencil by Starkville's own Betty Jane Chatham. Betty Jane Chatham has painted since high school. A graduate of the MUW, she continued her studies in painting at the Memphis Academy of Art, Delta State University, and Mississippi State University. Chatham has had several one woman shows, including one at the Lauren Rogers Museum of Art in Laurel, MS, and the Germantown, TN Municipal Art Gallery.
As part of SAAC's AiPP series, works may be listed for sale. SAAC collects and pays sales taxes on behalf of the artist for any work sold, and the artist keeps 80% of the proceeds. This exhibit will be on display until April 5, 2021, in the lobby of the greater Starkville Development Partnership in downtown Starkville and available online until further notice.