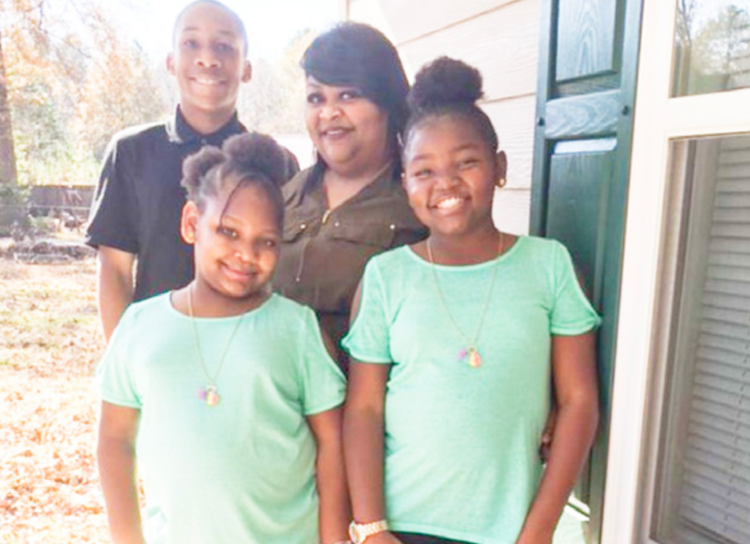 As families across the Golden Triangle celebrate the holidays, Erica Rice and her three children are especially grateful to host Thanksgiving at their home for the first time.
When chosen as the 2018 recipients of a Habitat for Humanity home, Rice said she immediately knew she would host Thanksgiving the following year.
"As soon as I found out I had the home, I told my momma 'We are going to have dinner at my house,'" Rice said. "I didn't know if it was going to be Christmas or Thanksgiving but I knew I would host it as soon as possible."
When she first thought about applying for the home, Rice said she was nervous but ended up applying for it after praying.
"I am so glad I decided to apply because this has changed our lives," Rice said. "But after we met with the committee, they told us a date we would hear back from them by, and we never heard from them so I figured I didn't get it."
However, on the morning before her shift at OCH Regional Medical Center, Rice said she arrived early and was surprised by the OCH and Habitat for Humanity staff about her selection.
"When I walked out, I saw them pull the balloons from behind their backs, and I just started to cry. I just went blank but was so so happy. I am so thankful for everything that did for me. Even one of my bosses came out with a tray of cookies that said home sweet home."
Rice said her mother, who also works at OCH, came down stairs, and they started crying tears of joy together.
"Reflecting back at that moment, I remember thinking how this change would impact my kids' life forever," she said. "You want your kids to live peacefully and be comfortable in their homes, so I am thankful for this blessing that has allowed them to have that space."
When constructing their home, Rice said they had to decide between having a four-bedroom home or a three-bedroom home with a dinning room.
"I talked about it with my girls, and we decided to build the dinning room because it is a space for us to be together as a family," she said. "There is something special about being able to eat a meal together."
Rice said family meals were times in her family when everyone gathered together and connected and she wants to pass that experience down to her children.
"Growing up as a child sitting around the dinner table after Thanksgiving dinner was prepared has always remained a special memory in my heart," Rice said. "I've always made a promise to myself and prayed that one day I would give those good memories to my children as well."
Now that Rice is in her home, she said her dreams of continuing the family traditions have become a reality.
"We are trying to keep the tradition going," she said. "Back when my grandma was living, that was always something big we celebrated, so now that I have my home dinner will be at with us."
While her mother or other families have previously taken on the role of hosting the meal, Rice said she wants to play a role in upholding this family tradition.
"I want to be the person to bring everyone together," she said. "With my home, there's more space and room, and we can all gather comfortably. My mom always does the cooking and we go to her house, but this year we get to treat."
As she counts her blessings this Thanksgiving, Rice said her family owes everything to the Habitat for Humanity and all of the people who made her dream a reality.
"I just want to thank Habitat because if it wasn't for them this dream wouldn't have been possible," Rice said. "I also want to thank First United Methodist Church because they played a major role in construction."