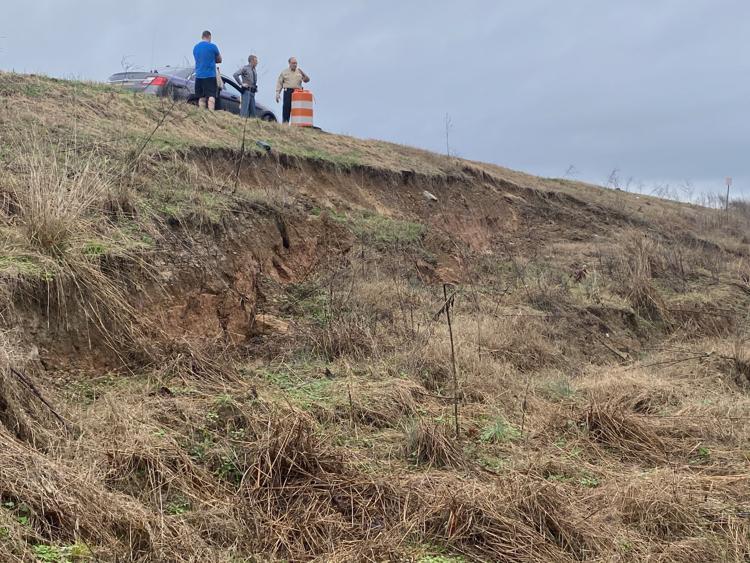 The situation at the Oktibbeha County Lake dam worsened overnight, according to county officials, as the area braces for more rain in the coming days that could put more pressure on the strained levee.
Oktibbeha County EMA said in its latest update that County Engineer Clyde Pritchard conducted an inspection Wednesday morning at 7 a.m. and found the lake has risen at least a foot overnight.
What's more, the county says meters monitoring the pressure still register heavy pressure on dam, in addition to "slight progression" on the mudslide from yesterday.
Here's the mudslide they're watching at the dam. Just spoke with Sheriff Gladney and he said all they can do is watch and keep folks updated. Saturday will be a big concern with a good bit of rain forecast. pic.twitter.com/H3CPt8Qda0

— Ryan Phillips (@JournoRyan) January 15, 2020
In one section on the levee Wednesday morning, the slide was a little more than a yard away from the road. Deputies have that area of the levee blocked off, but County Lake Road remains open to traffic going over the levee.
Pritchard will conduct another inspection of the dam at 11 a.m. Wednesday
Oktibbeha County EMA Director Kristen Campanella said the county will have someone at the lake continuously monitoring the levels of the water and the condition of the slide.
ALSO READ: Oktibbeha officials give update as dam failure remains 'imminent'
If the slide continues to progress toward complete dam failure, the county says it will consider upgrading to emergency classification and could issue a mandatory evacuation.
Campanella said during Tuesday night's briefing that roughly 130 homes and addresses would be impacted in the event of a total dam failure.
Here's an aerial photo of the dam in Oktibbeha County. Officials continue to monitor. There's still potential for a dam breach. After an inspection at 7:00 this morning, pressure continues to build.There are no mandatory evacuations at this time, only recommended evacuations. pic.twitter.com/K9amsgLYMW

— MSEMA (@MSEMA) January 15, 2020
Additionally, Oktibbeha County EMA expressed its concerns with the 3-5 inches of rain expected this weekend. 
Campanella said the county is working closely with the National Weather Service in Jackson, as they are monitoring our area for upcoming weather conditions.
The Red Cross shelter will also be open this evening in Oktibbeha County with their supplies needed to activate a shelter that will be located at the First Baptist Church Outreach Center, 210 S. Jackson Street.
Unless circumstances change, the shelter will open at 8 p.m.
While pets are not allowed at the Red Cross shelter, the Oktibbeha County Humane Society will board pets for any evacuees from the affected area. This is located at 510 Industrial Park Road in Starkville.
The next scheduled briefing will be at 2 p.m.
This is a developing story. For more, read Thursday's Starkville Daily News.