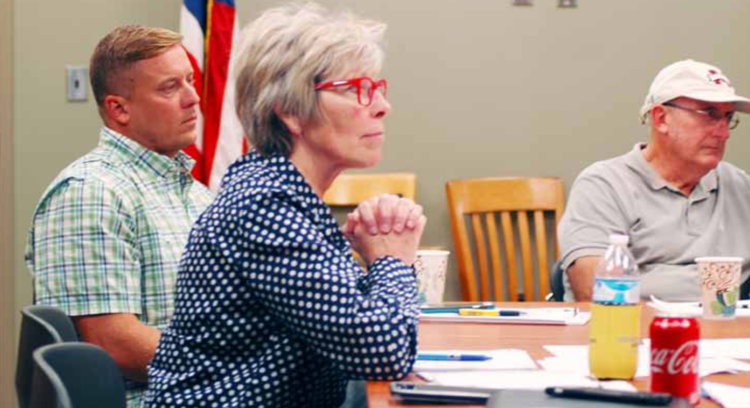 During Thursday's special budget work session at City Hall, Ward 1 Alderman Ben Carver reaffirmed his opposition to the one and half mil increase proposed alongside the 2019-2020 budget and said he would only vote for a number less than half of the initial proposal.
Carver's number for the mil increase was 0.64, an increase that add roughly $165,000 to the budget, a steep drop off from the nearly $400,000 that would come from the one and a half mil increase.
Carver's increase would see the millage for Starkville jump from 26.63 to 27.27.
Of the budget items that demand a tax increase, Carver said only two were important enough to warrant raising taxes this year.
The first item asked for $105,000 to fully staff the Starkville Fire Department, adding two firefighters to Station Five, something which was eluded Aldermen for years.
Second was $60,000 to raise employee wages in the second half of the upcoming fiscal year, meaning changes would be budgeted for April through September of 2020 roughly.
Carver said staffing the SFD was important if the city was going to reduce its fire safety rating from a four to three, something that would shave off insurance costs to varying degrees across Starkville.
As for employees, Carver said he personally knew of people working for the city struggling to make end's meet.
"We have some people that are living right below the poverty line, though, in the sanitation department, in other departments," Carver said.
Carver's plan would cut funding out of the budget for several items, such as a new fingerprinting machine for the Starkville Police Department and a new asphalt mixing truck for the engineering department to use to fix potholes, Mayor Lynn Spruill has previously labeled as "mandatory" to the continued safety and wellbeing of the city.
At the work session, Starkville Police Chief Frank Nichols said the machine requested in the budget would allow the SPD to compare the fingerprints of individuals with other law enforcement agencies' records in order to determine if an individual was suspected in any other criminal cases.
"So if we got a burglary suspect here, we put the fingerprints into this machine," Nichols said. "If Columbus has it on file, or whoever has it in this machine on file, then we can get their record here and say 'This guy is in our system for this that and the other.' We don't have the technology to talk to anybody."
Nichols said the current fingerprint machine had not been updated in about 10 years and needed to be replaced.
"Basically, it's just sitting there as a paperweight," Nichols said. "We can't even use it."
Spruill argued such a piece of equipment, while labeled as discretionary, was important enough to be properly funded.
"To me, there's nothing discretionary about that," Spruill said.
Regarding the asphalt mixing truck, City Engineer Edward Kemp said at the work session the current truck was about 15 years old and had spent a significant about of time out of commission due to needing constant repairs.
"We did an evaluation on that," Kemp said. "We just went two years back, so the last two years, actually, this calendar year and 2018, and we had 17 instances when it was in our shop or had to be [taken] to another private shop."
Spruill noted that lack of availability affected everyone, regardless of which ward they represented or lived in.
"This impacts every one of us," Spruill said. "Wards throughout the community because we each got potholes, and we each need that particular piece of equipment."
In a document shown during Tuesday's meeting of the Board of Aldermen, the costs for the new fingerprinting machine and the asphalt mixing truck were $25,000 and $40,000, respectively, with the latter being a financed cost rather than a lump sum.
THE FOURTH VOTE
Along with Carver, Aldermen David Little of Ward 3 and Henry Vaughn of Ward 7 opposed the mil increase as well.
"I really don't have an appetite for raising taxes," Little said.
Little admitted he saw the value of the requested items, specifically of fully staffing the fire department and providing wage increases for city employees.
Higher millage, Vaughn said, would lead to a decrease in sales across the city, a side effect he could not support.
"You keep putting taxes on people, people stop going out and eating," Vaughn said. "They stop going out and eating, we're losing revenue that way."
Like Little and Carver, Vaughn said he understood the value in the proposed budget items but could not support raising taxes, noting low-income citizens and those on fixed-wages already live on tight personal budgets.
On the other side of the issue, Aldermen Sandra Sistrunk of Ward 2, Hamp Beatty of Ward 5 and Jason Walker of Ward 4 pushed for the one and half mil increase.
Vice Mayor Roy A.' Perkins was absent from Thursday's work session.
Sistrunk, who is the Board's budget chair, echoed Spruill's belief that all of the requested items were necessary and rejected any notion that the needed money was hiding in the budget.
Without the new items, including the fully staffed fire department and the employee pay raises, Sistrunk said the budget was balanced.
"We just cannot do anything new," Sistrunk said. "We cannot give our employees a new compensation package that gets our police up to market standards, that gets our laborers up to a $12 minimum per hour. We cannot do those things, in my opinion, with the revenue we have now."
Beatty said there were items on the proposed list of additions that would benefit the city tremendously in the long run, most notably the fire department staffing, as being understaffed is currently one of the hurdles preventing Starkville from improving its fire safety rating.
The budget, Beatty said, had to be increased because of upcoming tax increment financing plans that would add on to the city's expenses in the coming years to the tune of nearly $1 million dollars.
Beatty has been an outspoken critic of the city's past willingness to accept TIF suggestions from businesses and said that policy was partially to blame for the need to increase revenue now.
"We have created these expenses by doing TIF bonds for these developments," Beatty said.
While Little and Vaughn remained wholeheartedly against any tax increase, Carver recognized the benefits of an employee wage increase and the fully staffed fire department as well as the fact that the other side needed one vote to approve the budget.
"The reality of the matter is I think I'm the fourth vote to make this budget pass," Carver said.
A balanced budget must be approved at the next regularly scheduled meeting of the Board of Aldermen on Sept. 17.
Carver presented his number of 0.64 for a millage increase to cover part of the proposed list of items, and no one compromised beyond that.
While an official vote will have to wait until Sept. 17, leaving the work session, the budget had the four votes it will need to pass, with some items cut and the millage increase reduced from one and half to 0.64.
Carver said he was happy Starkville was continuing to grow and acknowledged Beatty's point about being more selective with TIFs in the future to avoid more budget expenses.
He said he was pleased with the meeting and would keep working and evaluating the budget with Aldermen in the days going into the next meeting.
Spruill said the meeting was a great example of a working Board, noting that everyone present contributed to the conversation, which allowed Aldermen on both sides of the issue to reach the best conclusion.
"Even if you agree or you don't agree, you have input that gives you more information," Spruill said. "I am delighted we were able to discuss this with us in a forum. That, to me, makes a very good meeting."