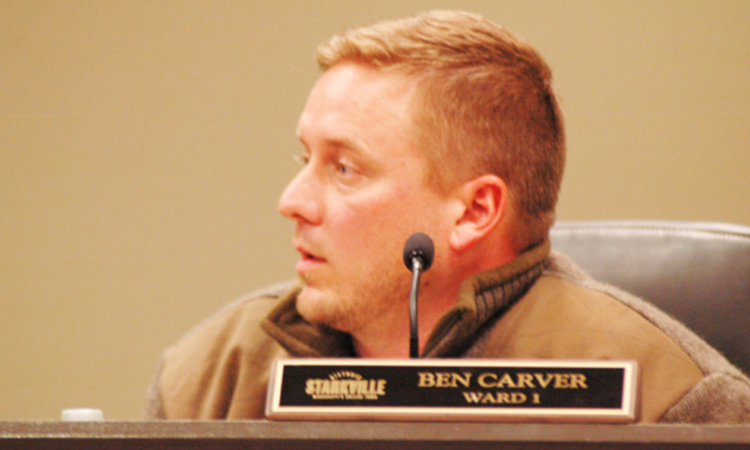 After an unexpected motion from Ward 1 Alderman Ben Carver, the Starkville Board of Aldermen voted 5-2 Tuesday to table the Dec. 17 vote on proposed short-term rental ordinances.
Only Ward 5 Aldermen Hamp Beatty and Sandra Sistrunk of Ward 2 voted to keep the scheduled vote.
The ordinances, aimed at regulating the increasing amount of short-term rental properties in Starkville, have been the source of conflict in the city for months.
Supporters of the regulatory ordinances argue short-term rentals arrangements where neighborhood homes are rented out by transient visitors deteriorate the traditional nature of residential areas by introducing commercial aspects.
The issue came to the attention of Aldermen after Starkville resident Julie Baca complained about a short-term rental property next door to her home earlier this year. Baca said 52 strangers had been in and out of the house in six weeks, making her and her daughter feel uncomfortable.
Baca spoke Tuesday against short-term rentals during a public hearing on the matter, calling for Aldermen to regulate the practice to keep Starkville's neighborhoods safe.
"The safety and security of my family are my highest priority, and it is this that's driven me to become passionately active on this issue," Baca said. "Separate zones for commerce and residence were established almost a century ago because it was recognized that commercial activity inherently increases traffic and transience in an area and that by itself diminishes safety and security, both individually and the aggregate."
Those who have fought the ordinances have typically been property owners who engage in short-term rentals themselves.
Over the past months, they have argued it is unfair of the city to regulate short-term rentals without doing the same to long-term rentals and have said they feel singled out by city officials.
Carole Gaston, a Starkville resident, said Tuesday she frequently sold more homes as a realtor to clients, particularly parents with children going to Mississippi Stat University, seeking long-term rental properties.
"Why are we penalizing the short-term rentals and leaving out the long-term rentals on this?" Gaston asked.
Gaston said she had two long-term rental properties in her neighborhood but did not consider either long-term or short-term rentals to be worthy of regulation.
"We're a university town," Gaston said. "Do we want to grow? Do we want to accommodate the parents of the students and the students who are here? Or do we want to regulate them to death?"
Following the citizens' time to speak at the public hearing, Carver echoed opponents of the ordinances.
"I don't think they should be separate," Carver said. "I think if you're going to address short-term rentals, you should also address long-term rentals."
The short-term rental ordinances were scheduled to be voted on by Aldermen on Dec. 17 at the regularly scheduled Board of Aldermen meeting. Another separate vote would be held at that same meeting to accept or decline the new unified development code.
However, with Carver's motion Tuesday, the short-term rental ordinances, which were to be added to the UDC upon Board approval, currently will not be in the document. With no ordinances in place, Aldermen will handle complaints related to short-term rentals on a case-by-case basis.
Carver said he had not received any complaints about short-term rentals in his ward, and while he acknowledged the legitimacy of Baca's original complaint, Carver said long-term rental properties created many more issues for residents.
"I do believe we field 10-1 calls on long-term rentals versus short-term rentals," Carver said. "I think that's a fact."
Originally against any regulation at all, Carver admitted the process of ironing out the short-term rental ordinances over the last few months had convinced him there was a need for regulation in both short-term and long-term rentals in Starkville.
Vice Mayor Roy A. Perkins of Ward 6 agreed with Carver that both types of rental properties needed to be looked at together to avoid unfairly burdening any one group.
"What I would like to see before this board, all in package together, let's look at a package that addresses the entire rental market," Perkins said. "That's the fairest thing to do."
In discussing short-term rentals, examples were provided of what other places such as Tupelo and DeSoto County were doing to address the problem. Perkins said Starkville had to find its own method.
"We are not DeSoto County," Perkins said. "We need to do things without trying to base ourselves on another jurisdiction."
Beatty, who initially pushed for the ordinances, said the process of working with the public and adjusting the ordinances had been an ongoing project that had yielded a measured response.
The ordinances as presented to Aldermen on Tuesday were the 17th iteration.
After working with the public so much over the last three months, Beatty wondered who would benefit from tabling the vote.
"Who's interests are we protecting, representing?" Beatty said. "Realtors? Real estate investors? What about homeowners who want to maintain the integrity of their neighborhoods? They're important, too."
Beatty dismissed the notion made by some opponents of the ordinances that short-term rentals were an exaggerated issue.
"These AirBnBs, short-term properties are proliferating in Starkville and other particular college towns and resort destinations and places," Beatty said. "I think we would be remiss if we did not do our part, do what we're supposed to do, our due diligence as a city board, to regulate these things."
Beatty, who, along with Sistrunk, was personally involved with most of the public input sessions over the last three months, directly challenged other members of the Board who did not participate in the sessions.
"I don't know where my colleagues were while we were having all these hearings and all these big public sessions and all these input sessions at the Sportsplex and one up here," Beatty said. "There was a lot of information that was had and said, and information disseminated on both sides in those meetings that would have been valuable information for Board members to know about to make a more informed decision about whether or not to go forward with regulating these short-term rentals."
Mayor Lynn Spruill, who was also active in public input sessions on the issue, said the city had worked hard to address questions raised by residents.
"I think our short-term rental ordinance had been dealt with significantly," Spruill said. "We have responded to concerns. I don't think that there's going to be more changes necessarily to go with it."
While Spruill said she did not believe long-term rentals needed to be addressed at the same time as short-term rentals, she said if that was what the Board wanted, then that was how it would be handled.
"Obviously, we can do that," Spruill said. "I think that's going to take a lot more study. I think the long-term rental pushback is going to make the short-term rental pushback look like a day at Disneyland."
Aldermen are scheduled to vote on the united development code, minus short-term rental ordinances, at the next meeting on Tuesday, Dec. 17.